This is the first publication of my Isotype project. I spent about 2-3 days on this datavisualization. I used the website 'het Geheugen van Nederland' to browse through the great collection of Isotype publications by Gerd Arntz. Many of these publications can be modernized (i.e. updated with current statistics and be made interactive), but it was more difficult than I expected to provide interactivity such that it is interesting and provides added value to the original static production.
I chose the population density illustration for my first publication. This is a fairly simple illustration with only two different icons (country and inhabitant). Below you see the original image, which can also be found here.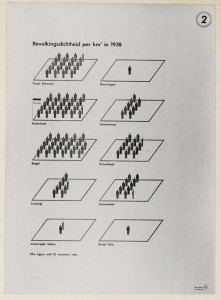 And this is what I have made from it (so far):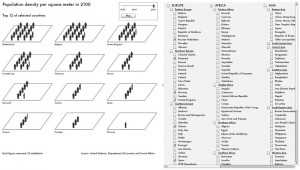 My version adds the following to the original:
A time slider
Selectable countries
Display of the top-12 countries with the highest population density
The numerical representation of each icon is based on the selected countries ('Each figure represents X inhabitants')
Tooltips per country that display the population density numerically
I also decided to change a number of things:
Because my version shows a top-12, the countries are displayed in an ordered fashion. Gerd Arntz also seems to have ordered countries in his work, but I don't understand on what rule the ordering is based.
I don't display a flag. The original illustration is focused on the statistical difference between The Netherlands and other European countries, therefore the Dutch flag is shown to put focus on The Netherlands. In my version, the focus is up to the user.
Please try out the modernized population density visualization yourself. It may take a while to load the visualization and data, so please be patient.
The data is taken from the United Nations. And because I cannot remember the original location of the document, you can find it here as well. The data includes predictions from 2010 up to 2100 according to different prediction models.  I chose the 'medium fertility' model, because I had to choose something.
And, by the way, if you want to live a quite life: go to Greenland. According to the United Nations, the population density in Greenland always has been and always will be zero.